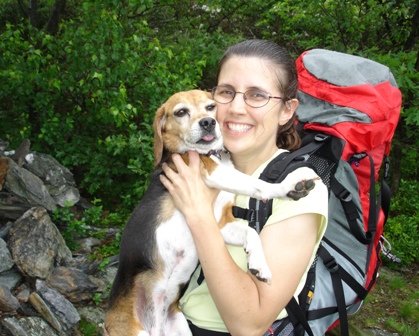 Kim and Lacey hiking on Mt. Frissell.
Today's Weather in Hartford
What's New on the Site
This website will cover between 2004-07-29 and 2017-08-19. Items will be filled in as time permits.
2020-04-11: Added to Great Adventures; Links to photo albums to Mount Elbert and King's Peak in 2017
2020-04-17: Added link to existing unlinked page Wedding Quilt
2020-04-22: Added links to Project Linus, Giving blankets to children in need. Girls on the Run.
2010-12-19: Added 2010 Christmas Picture and Letter.
2010-09-05: Added pictures from New Hampshire (Mt. Madison and Mt. Washington) and Katahdin
2010-08-01: Added 2010 CRRR to the Raft Race page
2010-05-31: A short trip report on our vacation to the Great Smoky Mountains.
2010-05-17: During our trip to the Smokies, we met a thru-hiker with a trail name of Bluegrass. We took a picture of him near an AT sign and next to a blue blaze mark. Hopefully his family will find this posting and be able to see the pictures.
2010-04-24: Added Iowa Trip Report from our 2005 trip.
2010-04-21: Added Nebraska Trip Report from our 2009 trip.
2010-02-28: Added Northfield and Moby Dick races to the Snowshoeing page.
Things that Make Me Happy
Looking in my husband's eyes
Running at the West Hartford Reservoir
Making good tasting food
Quilting
Beagle Kisses